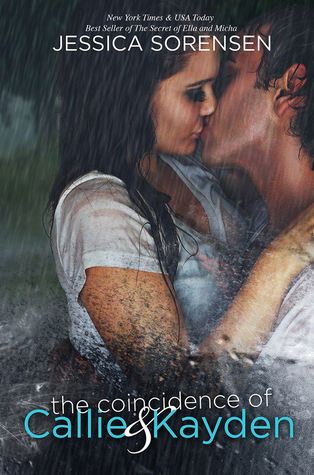 Author: Jessica Sorenson
Book: The Coincidence of Callie & Kayden
Other Books in Series:
The Redemption of Callie & Kayden
The Destiny of Violet & Luke
The Probability of Violet & Luke
The Certainty of Violet & Luke
The Resolution of Callie & Kayden
tl;dr recommendation: completely gripping, engrossing, and heartbreaking. I devoured this book.
Book Summary:
For Kayden, suffering in silence was the only way to survive. If he was lucky, he could keep his head down, do as he was told, and make it through the day. But one night it seemed like his luck — and his life — might finally end… until an angel named Callie appeared just in time to rescue him.
Callie has never believed in luck. Not since her twelfth birthday when everything was taken from her. After the worst was over, she locked up her feelings and vowed never to tell anyone what happened. Now, six years later, she continues to struggle with the painful secret that threatens to consume her.
When fate lands Kayden and Callie at the same college, Kayden is determined to get to know the beautiful girl who changed his destiny. Quiet and reserved, Callie still fears letting anyone else into her world. But Kayden is certain that Callie has come back into his life for a reason. And the more he tries to be a part of her life, the more he realizes that, this time, it's Callie who needs to be saved…
Longer Review:
Sometimes I'm a sucker for a coming of age story filled with inner turmoil, childhood demons, and unbreakable love. This was one of those times. Jessica Sorenson is a masterful storyteller – her writing easily has you falling in love with Callie & Kayden as they're not sure if they're falling in love with each other. BUT THEY ARE.
The brush of kisses, the hesitant touches, and the heartfelt connections remind me of when I was in college finding myself – or trying to anyway. This book pulls at those same emotions and makes me want to re-tell all of my secrets to my husband. INTROSPECTION.
Callie & Kayden have that thing that you look for when you're searching for your next read. It's a feeling – a connection – that bind them together and binds you to the freaking book. I totally didn't even mean to read this in one night, but then, there I was at 3am, unable to put the book down.
Callie is a sweet girl who has been through a shit experience as a child. Like most things that happen during our formative years, it's shaped who she is today. She's desperately trying to break free of the chains of those demons and learn to trust again. When she saved Kayden from his own childhood demons one night when they were back in high school she never thought she'd see him again. She did what she thought was right.
But to Kayden, that night was his salvation. What Callie did for him created a debt that he could never repay and when he runs into her at college, he's determined to thank her. Which turns into getting to know her. Which turns into oh-my-god-why-am-i-feeling-all-of-these-emotions.
The struggle of family is real. We all have our difficulties, and this book highlights some of the fucked up shit that can happen behind seemingly perfect picket fences.
I'm spent, people. THAT ENDING. I already ran off and bought book 2. #seeya *shoves face in book*