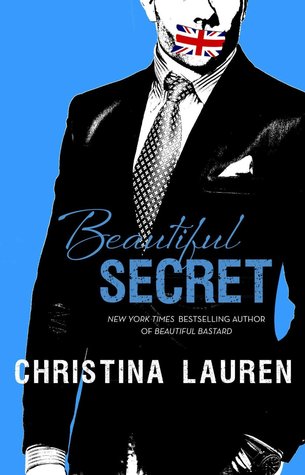 Author: Christina Lauren
Book: Beautiful Secret (Beautiful Bastard #4)
Other Books in Series:
Beautiful Bastard (Beautiful Bastard #1)
Beautiful Bitch (Beautiful Bastard #1.5)
Beautiful Stranger (Beautiful Bastard #2)
Beautiful Bombshell (Beautiful Bastard #2.5)
Beautiful Player (Beautiful Bastard #3)
Beautiful Beginning (Beautiful Bastard #3.5)
Beautiful Beloved (Beautiful Bastard #3.6)
[YOU'RE WELCOME FOR PUTTING THEM IN ORDER FOR YOU WITH LINKS & EVERYTHING]
tl;dr recommendation: It caused snort laughing & swooning, so basically it's awesome.
Book Summary:
AN UPTIGHT BRITISH EXECUTIVE. AN ADVENTUROUS AMERICAN NEWBIE. A SEXY INTERNATIONAL SCANDAL IN THE MAKING.
New York Times and #1 internationally bestselling author Christina Lauren's Beautiful and Wild Seasons series hook up in Beautiful Secret for an erotic intercontinental romp that celebrates the best of both worlds!
When Ruby Miller's boss announces he's sending her on an extended business trip to New York City, she's shocked. As one of the best and brightest young engineers in London, she knows she's professionally up to the task. The part that's throwing her is where she'll be spending a month up close and personal working alongside—and staying in a hotel with—Niall Stella, her firm's top urban planning executive and The Hottest Man Alive. Despite her ongoing crush, Ruby is certain Niall barely knows she's alive…until their flirty overnight flight makes him sit up and take notice.
Not one for letting loose and breaking rules, recently divorced Niall would describe himself as hopeless when it comes to women. But even he knows outgoing California-girl Ruby is a breath of fresh air. Once she makes it her mission to help the sexy Brit loosen his tie, there's no turning back. Thousands of miles from London, it's easy for the lovers to play pretend. But when the trip is over, will the relationship they've built up fall down?
Longer Review:
There's a reason that Christina and Lauren are a contemporary romance powerhouse. The evidence is right here – I present to you, what's been marked as Exhibit A, BEAUTIFUL SECRET.
Not only do we get to visit with Max, Will (*swoon*) and Bennett, but now Christina Lauren introduce us to a new kind of male hero. Niall is unsure, clumsy, and inexperienced when it comes to women. He may seem outwardly confident at work, but when it comes to romance he's a bag full of awkward. All blame goes to the ex-wife.
Ruby volunteers as tribute. I mean, WAY TO TAKE ONE FOR THE TEAM. However, it wasn't exactly such a monumental sacrifice being as how she's been infatuated with Niall ever since she started her internship at his company. Cue, semi-stalker alert. She didn't so much stalk Niall, she just gathered information. It was research. It was also pretty freaking funny.
Ok, so Ruby's thrown into going on this trip with Niall, which is not entirely believable because she's an intern & she's replacing a high level executive but I don't really care because, plot. Her goal on this trip is to not make a fool out of herself. Sorry Ruby, but that rule is broken before you even get off the plane. Sweet Christ, I legitimately snort laughed.
Once Ruby stops humiliating herself in front of him and learns how to speak, the dialogue is exactly what I've come to expect from these books: funny, sharp, witty, and adorable. Ruby may seem young, but she's wise for her age. She's mature, learns to handle Niall well in a short period of time, and is willing to do what it takes to make him comfortable. I so loved her in those scenes.
This book creates intimacy without sex. Don't get me wrong, there's sex in the book – there's lots of other stuff that leads up to sex too – and it's all incredibly hot and delicious. But, before anyone slides home, there are a slew of intimate sexual situations that I have never read before and I loved that. The dirty talking is well done and, if the fluttering I felt in my stomach was any indication, the sexual tension between the two was perfectly executed.
This series is fantastic, and Beautiful Secret doesn't let you down. COME JOIN THE FANDOM.