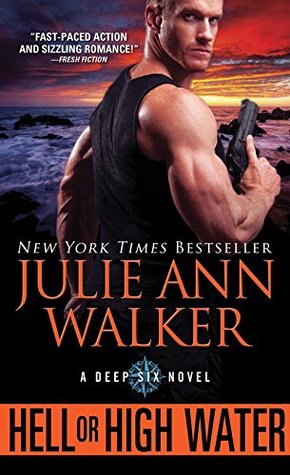 Author: Julie Ann Walker
Book: Hell or High Water (Deep Six #1)
tl;dr recommendation:  a great romantic suspense that will thrill until you're drowning in pleasure
Book Summary:
Six men. One sunken Spanish galleon. Millions in gold and silver coins lying on the ocean floor. And a past that refuses to let the guys of Deep Six Salvage forget the Navy SEAL motto: the only easy day was yesterday…
There's more than one kind of treasure…
The nation's security has always been CIA agent Olivia Mortier's top priority. But a mission-gone-wrong has begun to make her wonder if there's more to life than risking hers.
And more than one secret at the bottom of the sea…
Only two things could make Leo Anderson abandon his hunt for the legendary lost ship, La Santa Christina, and return to the world of weapons and warfare he swore to leave behind: a capsule of enriched uranium, lost on the ocean floor, and a plea for assistance from the one woman he can't seem to forget…
Longer Review:
**3.75 stars**
Those hot former SEALs know exactly how to make a girl wet. Leo's skills at holding his breath only rival his adept hands…and mouth….mmmmm….
A high paced, dangerous mission constantly interrupts Leo and Olivia as they keep trying to fall in love. It also gets in the way of their attempts to fuck. Poor people…so sexual frustrated, but Christ, it's hot. Leo & Olivia have a history…that ended after their mission eighteen months ago. A mission during which Leo lost one of his men, which resulted in a choice to retire from the Navy.
Leo's plan now is to start a salvage company with his team – who also are all now civilians. He wants to search for the missing treasure that went down with the vessel carrying it back in the 1600s. A little dreaming never hurt anyone, right? But he's convinced he can find it…with the help of his team. But then Olivia happens. She crashes back into his life and presents him with the opportunity for one last mission – a mission that will help finance his salvage company.
There are a ton (and I mean A FUCKING LOT) of colloquialisms, puns, and phrases in this book. Some of them hit, and some of them really missed. Like, the Bambi reference I could have done without. But there were others that were pretty funny and I was amused. I can totally see how that would grate on someone's nerves, but after awhile I learned to expect it.
The switching POVs weren't as jarring as I initially thought when I first started – you get more than just Olivia or Leo's perspective for this one, and I came to enjoy it. It was done well and once I knew that I was going to be inside more than one person's head, I was totally fine.
NOW BACK TO THE STORY. I was seriously itching for Leo & Olivia to get.it.on. Like, ASAP. But there was a substantial amount of cliterferance in the form of drama. Btw, that is an utterly fantastic word that I want to use daily. Thanks, Julie. The suspense is really high, the dangerous hits just keep coming, and the love between Olivia and Leo grows. The ending was extremely satisfying and gave me exactly what I wanted. Overall, a great romantic suspense that will thrill until you're drowning in pleasure.
[I received an ARC of this book via Netgalley in exchange for an honest review]