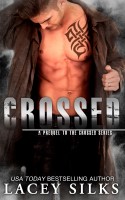 Author: Lacey Silks
Book: Crossed (#.5)
Other Books in Series:
Layers Crossed (#1)
Double Crossed (#2)
Crossed Off (#3)
tl;dr recommendation: This one didn't take my breath away, but it's a pretty good read.
Book Summary:
Healing from a loss, Grace Brooks wants nothing more than to move on and has given every man she dated a chance—only to find they're not worth her time.
Tying up loose ends of a case, Hunter Reeve stumbles upon a woman who may be the key to putting away a criminal family behind bars.
As danger lurks, weaseling itself into Grace's life, Hunter is forced to make a choice between his work and Grace. And the wrong choice could have consequences neither one is ready for.
Longer Review:
Full disclosure, I didn't read the series, just this prequel. I'm wondering if I would have loved this book more if I've already read the Crossed series. I have a feeling that the answer would probably be 'yes'. My lack of connection with the characters most likely had to do with the fact that I didn't know them – and you likely get to know them in the full series. SO, take this review with that in mind.
HOWEVER, the suspense and mystery engrained in this book was a lot of fun and a large part of what makes this a pretty good read. Grace and Hunter's story moved at lightening speed. Hunter's a caveman looking, homeless smelling man who shows up in Grace's salon after being undercover for three months doing god knows what. He doesn't speak and barely moves, so Grace has to strip him down in the shower. Thus, they've met for four seconds and she's already staring at his cock.
This really isn't something I usually complain about – I mean, I fucking love insta-lust. But somehow it just didn't work for me here and it felt a little forced. I just didn't feel the connection between the characters right away the same way that the words on the page said that the characters felt.
However, Grace and Hunter ARE pretty hot together. There's a substantial amount of delicious fuckery if that's what you're in the mood for, and let's not forget about throwing some kidnapping into the mix. I really really enjoyed the concept for this book, but I had to suspend my belief while reading it. Grace is on her search for the one after her former flame died saving her life, Hunter lies about silly things – like his job title – that turn out to be inconsequential, and Grace's family drama seems like it should really not be a big fucking deal.
The ending may have been what threw me for a loop. I was wondering why Grace didn't offer to do that in the beginning – I mean, all of the trouble would have been avoided. It seemed sort of an obvious, anticlimactic ending when there was so much drama surrounding Grace, her family & Hunter.
Overall, a good solid three stars. It kept my attention and had some great fun scenes.
[I received an ARC via NetGalley in exchange for an honest review]