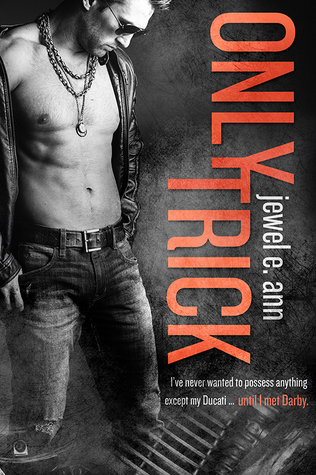 Author: Jewel E. Ann
Book: Only Trick
tl;dr recommendation: beautiful. heartbreaking. passionate. #MustRead
Book Summary:
"Don't Look Back in Anger"
In one night, I lost five years of my life. Here's what I know …
I was homeless.
I'm a recovering drug addict.
My inked skin crawls from lustful eyes.
I have a serious aversion to women.
My gay partner is a home wrecker.
I own a gun and I'm a damn good shot.
I'm a makeup artist, but it's an insult to my talent.
I've never wanted to possess anything except my Ducati … until I met Darby.
Now here's what I know since that day in the ER when she pieced me back together … nothing—but a few random thoughts.
My new "friend" is distracting, clingy, and obsessed with acronyms, emojis, and phrases like "breakfast soul mates."
I didn't want to like her, but she crawled under my skin and swallowed me whole. Now we're best friends and she's my new addiction. I'd drink her from a shot glass, snort her up my nose, or inject her into my veins if I could. What I won't do … is ever tell her that.
She doesn't know me … I don't know me. When those missing years come back, I think she will hate me … I think I will hate me.
My parents named me Patrick Roth, and this is my story.
Longer Review:
First things first – this is NOT a male/male love story. If you go in with that expectation, you will be extremely disappointed. I can see how the blurb could make you think that's what this is. But it's not. This IS a beautiful male/female love story. K? K.
When Trick & Darby are together it's like a flick of a switch. Nothing else matters – no one else matters. They are BFF's, breakfast soul mates, and (eventually) lovers. But there's one huge problem: Trick doesn't know his past. Will his past eventually catch up to him and ruin the perfection of their relationship? LET'S HOPE NOT.
Good God this book is phenomenal. It shakes and guts you, holds and caresses you, lifts and warms you. Trick is so much more than the gay make up artist he portrays himself to be. Darby's the piece of the puzzle that sheds light on his dark parts and fills that empty piece of his heart (probably with emojis).
The need builds and builds for these two until it's at nearly explosive levels. My palms were sweating every time that Darby came near Trick. My heart started hammering when they kissed for the first time. And after Trick starts letting himself feel and love Darby, all bets were off. His words mark, possess and gut you to pieces. As Darby fell in love with him more and more each day, so did I.
I absolutely loved the BFF talk and banter. The dialogue is funny and witty without even trying. Jewel has a quirky sense of humor and it shines right on through in this book. You'll smile, laugh, and tear up a bit. Darby's the kind of girl I'd love to be friends with, and NANA – LET'S NOT EVEN TALK ABOUT NANA BECAUSE SHE NEEDS HER OWN BOOK. God, I loved that woman. Even the secondary characters in this book are well written.
The depth, feelings, love and devotion grow with each passing page. There is nothing that Trick wouldn't do for Darby – NOTHING. If you're looking for a head over heels – swoon worthy hero, I've found him for you. GET IT NOW.
[I received an ARC of this book in exchange for an honest review]