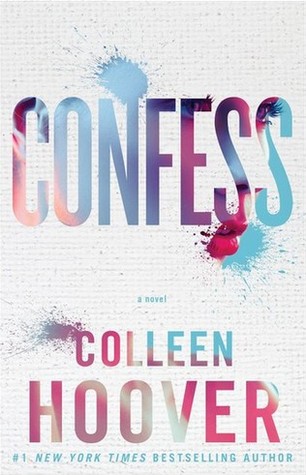 Author: Colleen Hoover
Book: Confess
tl;dr recommendation: Just grab your tissues and get ready. This emotional journey will have you begging to confess your soul.
Book Summary:
Auburn Reed has her entire life mapped out. Her goals are in sight and there's no room for mistakes. But when she walks into a Dallas art studio in search of a job, she doesn't expect to find a deep attraction to the enigmatic artist who works there, Owen Gentry.
For once, Auburn takes a risk and puts her heart in control, only to discover Owen is keeping major secrets from coming out. The magnitude of his past threatens to destroy everything important to Auburn, and the only way to get her life back on track is to cut Owen out of it.
The last thing Owen wants is to lose Auburn, but he can't seem to convince her that truth is sometimes as subjective as art. All he would have to do to save their relationship is confess. But in this case, the confession could be much more destructive than the actual sin…
Longer Review:
Colleen Hoover has an impressive ability to write an emotional story that's fresh and new. I never want her stories to end and that's definitely true of Confess.
Auburn and Owen just have that thing. When they're together it's like the completion of an electrical current. Everything just works with them together, even when the rest of the world doesn't want them to be together. What is Auburn going to do to fix her life? A life that is out of control, not because of what she's done, but because of what she can't do. Owen's life is equally in an uproar. He's struggling to handle his past and his present and to stand firm on his beliefs. They meet each other at the most imperfect time – or is it the perfect time?
I love the artwork that's shown in this novel. It's beautiful and abstract and gave me, as a reader, a different level of commitment. You see one where Owen has depicted Auburn, which is incredibly awesome because while you may have a picture in your head of the characters, it's the coolest thing to have the author sort of tell you what SHE thinks Auburn looks like (through Owen's eyes). Loved that!
Confess is outstanding. The writing pulls you in and the story makes you want to confess every secret you've ever bottled up. Combining confessions with art is a marriage of perfection. What a freaking great idea, CoHo!
Colleen Hoovers' books allow me to open myself up and be vulnerable in ways that I don't do for anyone – but that's the point of reading, right? To let the characters entwine their feeling with your own so you're not quite sure where you end and they begin.
Confess reminded me why I love reading so goddamned much. Because books have a way of changing your mood and great books can change your outlook on life. Just in case you weren't sure – Confess is a great book. It's an exhilarating emotional journey about what happens when fate gets involved to move you from your past to your future. It's also about Owen-Cat. Which is the coolest freaking cat name in the history of the world.
This is a Must Read and a Re-Read and an Always Read.
Reading Confess causes warmth to run through your veins and saltwater to leak from your eyes. You've been warned.