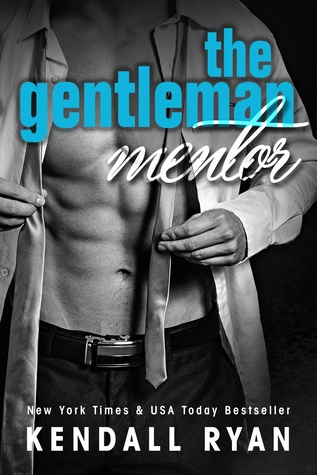 Author: Kendall Ryan
Book: The Gentleman Mentor
tl;dr recommendation: Cameron Hale can dominate me anytime and anywhere he'd like. Yes, please.
Book Summary:
He calls himself the Gentleman Mentor.
Just reading his ad makes me feel more alive than I have in years.
He promises to teach me the art of seduction … and show me the most sinfully erotic pleasures. He's going to help me become the kind of confident, sexy woman men can't ignore.
Six lessons … with the most gorgeous man … who happens to be a Dom.
The only problem … now that I've experienced his brand of delectable domination will anyone else ever compare?
She's a client. That's all.
Or it should be.
But with every lesson, she's becoming more.
The secrets I'm hiding behind the image of the Gentleman Mentor make telling her the truth—and having anything real—impossible.
I'm training her for another man, and that fact guts me every time I think of it.
I know she's not mine … but part of me won't accept that.
Am I willing to risk it all to keep her?
THE GENTLEMAN MENTOR is a full-length standalone novel.
Longer Review:
If I didn't already like a man who was dominant, intense, brooding and yet caring, I would now. Cameron Hale is one hot and sexy gentleman. The way he speaks, the way he looks at Brielle, and the way he fucks has me halfway to the floor in the kneeling position.
Brielle is a quiet bookworm. Perhaps this is a slight pander to the reading audience, but I don't care. I liked her. She's trying to step out of her comfort zone since her attempts at dating have led nowhere interesting. When she sees an ad for the Gentleman Mentor she figures, what the hell, and emails him. Soon she's being trained, groomed and adored by Hale.
While Hale is quick to remind Brielle that there aren't any feelings attached to their lessons, he's really reminding himself because he's quickly succumbing to the 'holy-shit-i'm-attached-to-this-woman' disease. He doesn't know what to do with his feelings. I mean, he's a Dominant. This woman can't possibly want to enter his world. She can't possibly understand him. And he can't ever want to open his heart up again, since it was so tragically ripped from his chest before.
However, like a force of nature, Brielle and Hale continue to passionately come together. The last session is looming upon them, and both of them deal with how they're going to handle their parting. Especially since Hale is training Brielle to be with another man.
The ending was a bit lackluster, but the overall story was not. There are some really great scenes that push Brielle's limits and made me want to push my own. It's hot, it's intense, it's really great. – 4 Stars –