This post is part of my ongoing reviews/reading of the Outlander series – Read Outlander first. Potential spoilers ahead.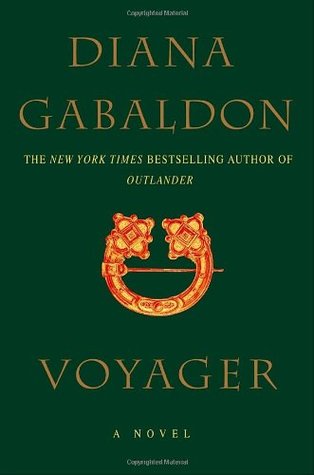 Author: Diana Gabaldon
Book: Voyager (Outlander #3)
Other Books in Series:
Outlander (Outlander #1) – my review is here
Dragonfly In Amber (Outlander #2) – my review is here
Drums of Autumn (Outlander #4)
The Fiery Cross (Outlander #5)
A Breath of Snow and Ashes (Outlander #6)
An Echo in the Bone (Outlander #7)
The Space Between (Outlander #7.5 – a novella)
Written in My Heart's Own Blood (Outlander #8)
A Leaf on the Wind of All Hallows (Outlander #8.5 – a novella)
Moonlight And Howling (Outlander #9 – not yet finished)
tl;dr recommendation: The secrets are forgivable, the passion is real, and the journey is unforgettable
Book Summary:
From the author of the breathtaking bestsellers Outlander and Dragonfly in Amber, the extraordinary saga continues.
Their passionate encounter happened long ago by whatever measurement Claire Randall took. Two decades before, she had traveled back in time and into the arms of a gallant eighteenth-century Scot named Jamie Fraser. Then she returned to her own century to bear his child, believing him dead in the tragic battle of Culloden. Yet his memory has never lessened its hold on her… and her body still cries out for him in her dreams.
Then Claire discovers that Jamie survived. Torn between returning to him and staying with their daughter in her own era, Claire must choose her destiny. And as time and space come full circle, she must find the courage to face the passion and pain awaiting her…the deadly intrigues raging in a divided Scotland… and the daring voyage into the dark unknown that can reunite or forever doom her timeless love.
Longer Review:
Sweet christ. I cursed more in this book than I have in any of the others, but this is also my favorite of the series so far. I don't know why I get so angry with the characters when I KNOW that I'm just going to let them crawl back into my heart and do it all over again. I mean for fuck's sake. JAMIE. Remember in the last book when I was so pissed at Claire I couldn't see straight? Oh. Well, now it's Jamie's turn.
Until approximately 27% into this book I was really angry. AND THEN. The perfect scene happened. And it was like the rain fell lightly overnight, cooling the heat that was smothering me and I could finally breathe again. I spontaneously orgasmed. My heart burst from my chest. And all was right with the world.
We know from the blurb that Claire goes back in time to find Jamie now that she knows he's alive – but twenty years have passed. TWENTY YEARS. Anything could have happened in those twenty years, and damnit, so much does. Can Claire accept the Jamie that he is now as opposed to the one that she remembers so long ago? It's clear from the immediate reunion that they both burn for each other. The hot kisses and the firm grip of their love is undeniable to anyone who sees them. But as the truth unravels – as the secrets Jamie keeps start to spill out – can Claire forgive him? CAN I FORGIVE HIM?
There is a shit ton of angst, kidnapping, arson, prison, murder, glorious sex, shipwrecks, and even the return of a character that I never thought I'd see again. At one point I skipped through my kitchen and squealed while my husband gave me side eye and shook his head. At another point I had silent tears streaming down my face as a piece of my heart broke off.
This series is exceptional. Yes, it's fucking long. Yes, Diana knows it. She actually makes fun of herself a little bit about the length of her books in this one and I found that refreshing. In all reality, this book is like 4 in one. There's a lot packed into these pages that will keep you up at night and have you thinking about it during the day.I dreamed about this book, twining it into my sleep as well as my days. This book, like the others, is written extremely well. The attention to detail is outstanding and Diana knows just how far she can push you before you need a reprieve, and then she reels you back in with Jamie & Claire. Always Jamie & Claire.
The secrets are forgivable, the passion is real, and the journey is unforgettable. 5 Stars! On to Drums Of Autumn!