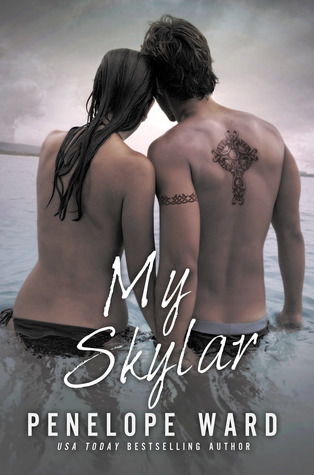 Author: Penelope Ward
Book: My Skylar
tl;dr recommendation: oh, I'm sorry, I'm busy wiping tears from my chin. Sweet Christ. 4.5 stars.
Book Summary:
From the author of the Amazon #1 bestselling romance, Jake Undone, comes a friends-to-lovers story of longing, passion, betrayal and redemption……with a twist that will rip your heart out.
Skylar was my best friend, but I secretly pined for her. One thing after another kept us apart, and I've spent the last decade in fear of losing her forever.
First, it was the cancer, but she survived only to face the unthinkable at my hands. Because of me, she left town. For years, I thought I'd never see her again.
But now she's back…and living with him.
I don't deserve her after everything I've put her through, but I can't live without her. This is my last chance, because she's about to make the biggest mistake of her life. I can see it her eyes: she doesn't love him. She still loves me…which is why I have to stop her before it's too late.
My Skylar is a STANDALONE novel and a companion to Jake Undone.
**Contains graphic sexual content and harsh language. It is only appropriate for adult readers age 18+
Longer Review:
4.5 stars.
The tears. good lord, the tears. How much heartbreak and loss can you handle? If you're in the mood to ugly cry, grab a box of tissues, move away from people and get ready to let the feels take over.
I hate cheating books. I hate love triangles. I hate. I hate. I hate. They make me all angsty-faced and queasy and put me on edge in a bad-uncomfortable way and I usually avoid them like the plague. So, I was really unbelievably nervous about this book – I shouldn't have been.
I hated what's-his-face from the start. No really. He doesn't get a name here. When we dive into the book, Skylar's living with That Guy Who Makes Her Feel Safe and Mitch is sort of stalking her. We later find out why he's channeling his inner Christian Grey and it's not nearly as creepy as you'd think.
I am in awe of Mitch. I loved every single piece of him. I loved his stalkerish ways, his loyalty, his weeping orgasms, his backwards Yankee hat, and the way that he looks at Skylar. I loved it all. Skylar is one incredibly tough girl. However, as she ages she loses a bit of her strength and I hated that for her. It's like the cancer sucked that sass and spark right out of her. I wanted her to fight for Mitch. I was heartbroken and devastated when she didn't.
But not to worry, as I said before, Mitch is perfection. He's dominant without being overbearing and sensitive without being weak. He suffers through so much and he never.ever.failed.me. If you haven't yet noticed, I may love Mitch. My Skylar is a serious sexual simmer that rages into an inferno as soon as the plot allows it. OHMYGOD.
At the end I was a ball of mixed emotions, so turned on and yet crying wildly. I'll just be over here wiping the tears from my chin. Loved this book!