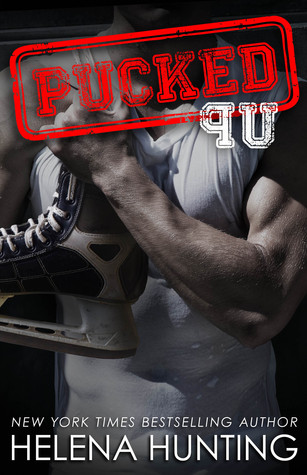 Author: Helena Hunting
Book: Pucked Up
tl;dr recommendation: Murphy's law meets romantic comedy that will have you looking at Yeti's in a suddenly sexual way. 5 stars – #MustRead.
Book Summary:
Miller "Buck" Butterson has been banging his way through life ever since a puck to the face fixed his messed up front teeth, and he was drafted into the NHL during his first year of college. After five years of deflecting goals on the ice and scoring them with puck bunnies across the Continental US and parts of Canada, Miller is ready for a girlfriend. A real girlfriend of the non-bunny variety. One he takes on dates and doesn't jump into bed with after five seconds of conversation.
Miller thinks he's found that woman in his teammate's sister. Except, unlike Alex Waters, center, team captain and all round nice guy—who happens to be dating his step-sister—Miller's manwhore reputation is well earned, and not blown out of proportion by the media. Beyond that minor detail, Miller doesn't know the first thing about having a girlfriend. But he's determined to make it happen.
What he doesn't take into account is the amount of time and effort relationships require, or that constantly letting bunnies take selfies with him to post all over social media isn't going to win him any points in the boyfriend department. Miller learns—not so quickly—that if he wants to make Sunshine "Sunny" Waters fall for him, he going to have to do a whole lot more than show her his stick skills in the bedroom.
Longer Review:
Motherpucking hilarious! Pucked Up is a combination of Murphy's law meets romantic comedy that will have you looking at Yeti's in a suddenly sexual way.
We all remember Buck from Pucked – he's Violet's stepbrother, teammate of the infamous Alex Waters of MC fame. Buck doesn't always say the smartest things, but he's not dumb. He is, however, a puck bunny aficionado. At least he was until he met Alex's sister, Sunny Waters.
Suddenly the only flavor of the month that he's craving is granola. Sunny's a vegan, sort of hippy, but totally sweet girl who still lives with her parents in Canada. While Buck can't seem to keep himself out of social media nightmares, Sunny's desperately trying to figure out if she can handle all that comes with being with Buck.
There are so many amazing moments in this book. Each character is developed so well – and I adored that Violet is all over this book. Her sound advice and oversharing demonstrate the perfect brother/sister relationship. Just when you think that the situations can't get more out of control – they can. It's so ridiculous, yet so fantastic.
Pucked Up is well done from every angle. Helena writes an engaging story that made me swoon, facepalm and actually laugh out loud. Believable characters twine with intelligent writing, which makes for an easy, fun and perfect read. This is an absolute five star #MustRead. LOVED.
[I received an ARC of this book in exchange for an honest review]