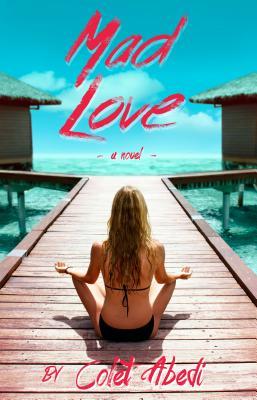 Author: Colet Abedi
Book: Mad Love (A Mad Love Story #1)
Other books in series:
Madly In Love (A Mad Love Story #1.5)
Mad Love 2 (A Mad Love Story #2)
tl;dr recommendation: fluffy; yet enjoyable. 3.75 stars!
Book Summary:
23-year-old aspiring artist Sophie Walker can think of no better place than the exotic paradise of the Maldives Islands to escape the wrath of her controlling parents, the monotony of her boring legal work and her passionless boyfriend. With her two best friends along for the ride and to help her find herself again, Sophie is not prepared for the enigmatic Clayton Sinclair. Clayton comes from another world of privilege that seems like a fantasy to Sophie.  Can this man introduce her to the passion & seduction she never realized she was desperately searching for? Sophie quickly becomes ensnared in Clayton's seductive web until a shocking treachery makes her question her judgment and actions…
Longer Review:
This is fluffy and enjoyable and all ready for you to completely forget your current life and shake your head at Sophie's overreactions and Clayton's overpossessiveness while licking your lips at their scorching connection. Mad Love is Instalove on Vacation. Which, on the whole, I'm pretty ok with.
Sophie's been on a bit of an impulsive streak. She quit law school [my admiration for what balls that took is astronomical] and decided that she wants to be an artist. She also broke up with her longterm boyfriend who everyone decided was perfect for her but who towards she felt no passion. Her parents are pissed. Understandably so. They likely think she's lost her mind. Of course, jumping on a plane to the Maldives on an extremely expensive vacation when you aren't sure how you're going to pay for your future life doesn't exactly scream responsibility. BUT WHATEVER. Sophie's impulsive.
Minutes after arriving she eye-fucks Clayton. Their connection is instantaneous. I wasn't kidding when I said it was instalove on vacation. If the whole virgin storyline bothers you, then you're going to want to sit this one out. Clayton is clearly channeling Christian Grey for a good portion of his possessive, inappropriate and eye roll inducing comments. It was a little bit much for me at times. I mean, I love a good alpha possessive man just as much as the next gal, but Clayton took things to a new level for a guy who knew Sophie for two seconds.
While Sophie tries to stand up to Clayton, she doesn't really succeed. Instead, she sputters a lot and acts pretty petulant. The two of them are sort of made for each other. I thought they were each pretty melodramatic, but on the whole I had a good time reading the drama. This is light and silly and easy to read, which made it my perfect Sunday night companion. 3.75 stars!