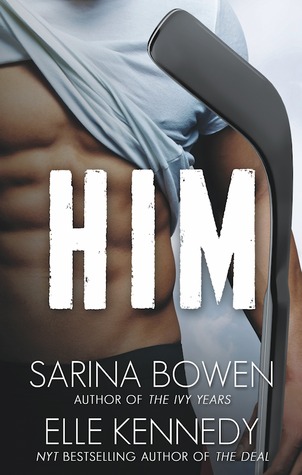 Authors: Sarina Bowen & Elle Kennedy
Book: HIM
tl;dr recommendation: this book had me clenching more than just my fists. You'll need a bucket of ice handy to cool down from this sexy as hell love story. FIVE STARS
Book Summary:
They don't play for the same team. Or do they?
Jamie Canning has never been able to figure out how he lost his closest friend. Four years ago, his tattooed, wise-cracking, rule-breaking roommate cut him off without an explanation. So what if things got a little weird on the last night of hockey camp the summer they were eighteen? It was just a little drunken foolishness. Nobody died.
Ryan Wesley's biggest regret is coaxing his very straight friend into a bet that pushed the boundaries of their relationship. Now, with their college teams set to face off at the national championship, he'll finally get a chance to apologize. But all it takes is one look at his longtime crush, and the ache is stronger than ever.
Jamie has waited a long time for answers, but walks away with only more questions—can one night of sex ruin a friendship? If not, how about six more weeks of it? When Wesley turns up to coach alongside Jamie for one more hot summer at camp, Jamie has a few things to discover about his old friend…and a big one to learn about himself.
Warning: contains sexual situations, skinnydipping, shenanigans in an SUV and proof that coming out to your family on social media is a dicey proposition.
Longer Review:
Give me second. I'm in a massive book hangover. I am so gone for this story. It's sexy, alluring, and completely addictive.
wow. Wow. I fucking love this book. Coincidentally, I also loved the fucking in this book. IT IS SO HOT. Jamie and Wes' story made my heart stutter and my pussy clench…even though neither of them would really care about that last part. Le sigh 😉
Jamie and Wes have been best friends for years. Wes was that guy at summer camp that would never back down from a challenge and who was always causing trouble. However, what Jamie doesn't know is that Wes is in love with him & has always been in love with him. When Wes and Jamie are eighteen, on the last summer of their camp experience, Wes makes a bet with Jamie that will forever change their relationship. After that night he never speaks to Jamie again…until four years go by and they run into each other at a hockey tournament. Wes may be in love with Jamie but he's pretty sure Jamie is straight, which devastates the deliciously cocky and oh so arrogant Wes. Or is he?
Two buff hockey players falling in love is perhaps my new favorite weakness. There's just something about this book that made me smile incessantly. I'm going to flail and gush and scream 'READ THIS BOOK' to everyone now. Really. GO READ THIS BOOK. This is not only a great m/m love story but it's also just a great story. You can feel the emotions come through the pages. Wes is struggling not to give too much away while Jamie is struggling to find out what this all means for him.
They're so damn sweet to each other and yet so very manly that my ovaries may have shed a few tears when they realized they didn't stand a chance. Favorite part other than their budding relationship? Jamie's family. Hands down. Coolest fucking people on earth.
I am so utterly sad that this book ended. I could read about their lives forever. This book causes giddiness, warring emotions and pure joy. FIVE STARS!
[I received an ARC of this book in exchange for an honest review]