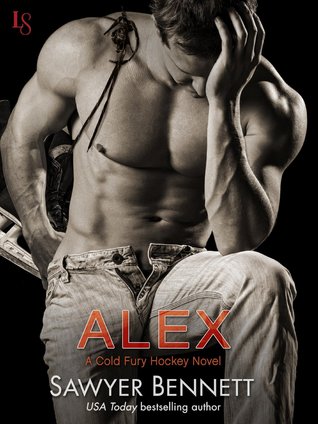 Author: Sawyer Bennett
Book: Alex (Cold Fury Hockey #1)
Other books in series:
Garrett (Cold Fury Hockey #2)
Zack (Cold Fury Hockey #3)
Ryker (Cold Fury Hockey #4)
tl;dr recommendation: hockey god + smart woman + just enough emotion to make you swoon = an awesome read
Book Summary:
Hockey star Alexander Crossman has a reputation as a cold-hearted player on and off the rink. Pushed into the sport by an alcoholic father, Alex isn't afraid to give fans the proverbial middle finger, relishing his role as the MVP they love to hate. Management, however, isn't so amused. Now Alex has a choice: fix his public image through community service or ride the bench. But Alex refuses to be molded into the Carolina Cold Fury poster boy . . . not even by a tempting redhead with killer curves.
As a social worker, Sutton Price is accustomed to difficult people–like Alex, who's been assigned to help her create a drug-abuse awareness program for at-risk youth as part of the team's effort to clean up his image. What she doesn't expect is the arrogant smirk from his perfect lips to stir her most heated fantasies. But Sutton isn't one to cross professional boundaries–and besides, Alex doesn't do relationships . . . or does he? The more she sees behind Alex's bad-boy facade, the more Sutton craves the man she uncovers."
Longer Review:
Of course this book is great. How could it be anything else? hockey god + smart woman + just enough emotion to make you swoon = an awesome read. Hockey men know how to use their sticks…#justsayin.
Fun fact: I actually read these books in reverse order [well, except for Ryker], even though my reviews are going to be in correct order. This just goes to show that yes, they are standalones & you can read them in any order. Although, I recommend reading them in order because you do get spoilers doing it like I did.
In this book, Alex surprised me. Let's just say that the man comes a long long way from where he once was. Here, he's an emotional juvenile. He's shut off and shut down. He has an attitude about everything – not just about his love life, in which he remains an emotionless fuckwit – but everything. His shitty attitude causes the higher ups at Cold Fury to force a little intervention upon him. If he wants to keep his very well-paying job, then he needs to "volunteer" to be a celebrity spokesperson for an anti-drug campaign.
And this is where Asshole Alex meets Sutton Price, the no-nonsense drug counselor who is his contact for the campaign. Sutton is definitely different than every girl Alex has ever met – she's strong, she's independent, and she's not willing to take his shit. Of course, she's insanely beautiful, too. The love Sutton has for her family is probably one of the most attractive qualities about her. She's down to earth & just normal. Alex needs normal.
The connection is instant and insane. However, they don't just fall into bed together. Alex's reaction to Sutton is so incredibly endearing, it's like he turns into a sixteen year old boy who gets nervous & vulnerable. He's brutally honest about his concerns about hurting her – but he won't stop seeing her because he just likes her.
Sutton & Alex balance each other out so well – they have such a similar background story but have reacted so differently to the set of circumstances life has thrown at them. While the subject matter of the book is serious, the storyline doesn't drag you too deeply into the seriousness, and I liked that. It gave the appropriate amount of time to let the characters deal with their issues (ok, to let Alex deal with his issues) while still focusing on the love story that was playing out.
That ending caused massive swooning. It's uniquely not unique, and I loved it. It just made me fall even further for Alex. LOVE SO HARD.